The Holy Grail and accepted standard of renting a home is that it should rent in less than a month. For us at Home Encounter, it takes approximately 23.1 days. Renting a home in less than a month requires you to remember four specific things. These are the Four P's in marketing, which you probably learned in your college marketing class.
Rent My Home: Product
Your product must be awesome if you want to rent it in less than a month. It cannot be functionally inferior to others on the market. If your property has one bathroom and the competition has two bathrooms, you'll have a hard time renting it quickly. Or, if it's common in your area to have a two-car garage and you have a carport, that product deficiency will lead to a longer vacancy period. Make sure your product is competitive and similar to the other homes on the market.
Rent My Home: Price
The price has to be right. It can't be too high to rent in a timely fashion. There is too much information available on the market, so people know what your home should rent for it. Potential renters are looking at Zestimates, comp rentals, and lots of other sources so they know what your competitors are asking. Don't ask for too much.
Rent My Home: Promotion
If you're not marketing your home, or if your marketing is inferior and your pictures are ugly or you're not using all the available media, you won't rent in less than a month. Make sure you're marketing correctly. Your listing needs to be in all the appropriate channels like Zillow. Use a street sign and make sure you're attracting a large pool of potential tenants.
Rent My Home: People
If your people are lazy and they don't answer the phone or respond to emails and they're not nice when renters call, you're not going to rent quickly. Make sure you have the people element in place so you can rent out your home to a great tenant as soon as possible.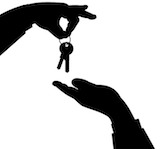 Remember these 4 P's when you want to rent in a timely fashion. Get these right, and you can rent in around 23 days too, especially if you use a Home Encounter agent. If you have any questions about Orlando property management or how to rent out your home quickly, please contact us at Home Encounter Orlando.